Can I use my pilot account to book flights as a passenger?
A Wingly Pilot account also has the functionality of a passenger account. With your pilot account, you are able to book other pilots' flights as a passenger, use the passenger referral feature, bookmark other flights you see on Wingly, as well as purchase or use gift cards; just as a passenger can with their account.

To then check any bookings you have made on Wingly flights, view the passenger referral page, view any flights you've bookmarked, and look at any gift cards you have purchased, there is a separate passenger section on your profile.

To find this, first click on your name in the top right of the Wingly site. In the drop down menu you will see 'My Passenger Account'. Clicking on that will then reveal the passenger section.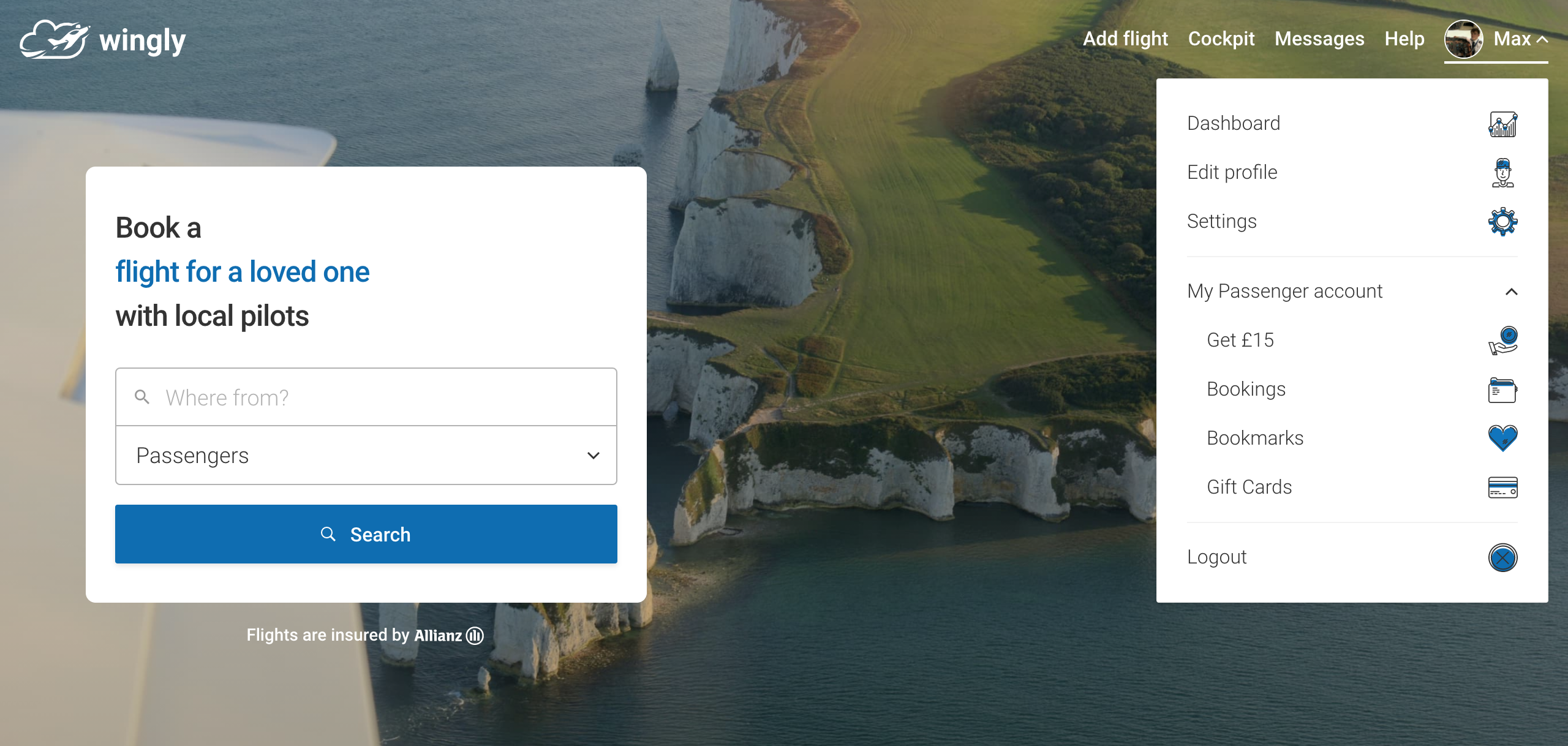 Note: Unlike with passenger accounts, pilots cannot use the flight request feature to request fights from other pilots. Pilots can only receive flight requests. Find out more about the flight request feature
here
. If you do wish to add a flight request as a passenger for other pilots to respond to, please contact us.

If you have any questions you can contact us directly at tower@wingly.io or by phone on +447708405306. We are available from Monday to Friday from 8:30 to 17:30.
Popular Articles

COVID-19 Pilots: Flying activity in the safest way.

A notice to pilots December 2021 Update: The GA guidance page on gov.uk has been updated to clarify the latest position, as well as the general travel guidance page. We are happy to announce that as per the UK Government guidance, General Aviation ...

How can I get in touch directly with the pilot?

While it's not required to send a pilot a message prior to booking, we always recommend doing so as it increases the chances of your booking being accepted by the pilot, so your unique flight experience can go ahead! It is also a great chance to tell ...

What costs can I share as a pilot?

Flight sharing is fully legal in the European Union according to the European Regulation (EU) No 965/2012 and it has been confirmed by the EASA itself in a letter to Wingly. Private pilots are allowed to share their flights and costs with passengers ...

How do I book and pay for a flight?

It's simple and straightforward to make a booking on Wingly: *You can also make multiple booking requests, which will allow you to increase your chances to book a flight. Please click here to learn how to do Multiple Bookings 1. Select the flight you ...
Related Articles

How do I use my unavailability calendar?

The calendar feature on Wingly is a really important tool as it allows you to share your unavailability with Wingly passengers. With the new and improved calendar, you can choose when you are available to take passengers for each of your flights. ...

How do I accept a passenger's booking request on one of my flights?

After a passenger has made a booking on a specific flight you offer, you need to approve their request after which they will receive a link to make payment and once they have done so it will confirm the booking. When a booking request is placed, you ...

What's the flight request process for a pilot?

Flight request is a new Wingly feature which boosts provides a greater flying possibility, both for the passenger and the pilot. In the event that you as a pilot haven't posted the flight desired by a passenger, the passenger will now be able to ...

What do I do if a passenger wants to use a Wingly Gift Card or voucher to book a flight?

Whether it is a discount code or a Gift Card, the passenger will need to enter the voucher code at checkout when paying for the flight of their choice on Wingly. This has no impact on you as the pilot, you will still be paid their full share of the ...

How do I create a Wingly pilot account?

If you hold a LAPL, PPL, CPL, or ATPL (A&H), flight sharing is an activity that allows private pilots to share their direct costs of a flight without profit with their passengers. Therefore if you hold one of these licenses, a valid class 2 medical ...