How can I check all of my redeemed Gift Cards?
All the redeemed vouchers can be found easily via your Wingly account, in the "Redeemed Gift cards" section.
1. Firstly, click on the "Redeemed Gift cards" section of your account.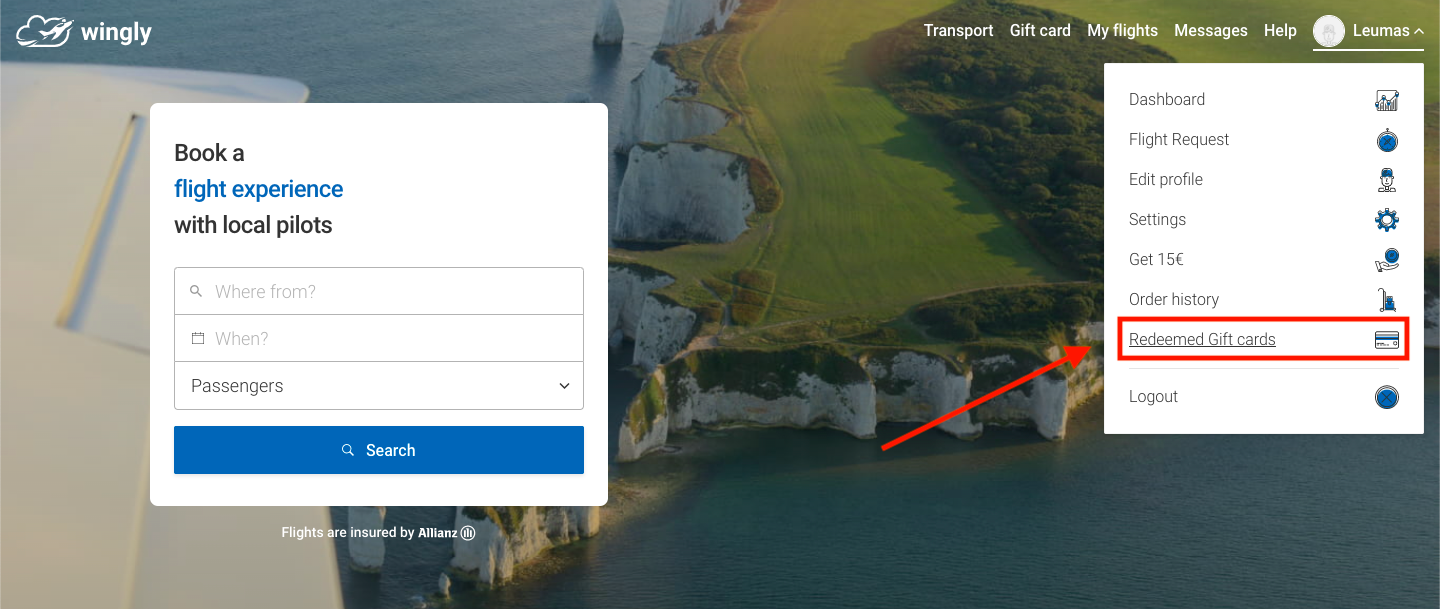 2. You will then be able to check all your redeemed gift cards in validity.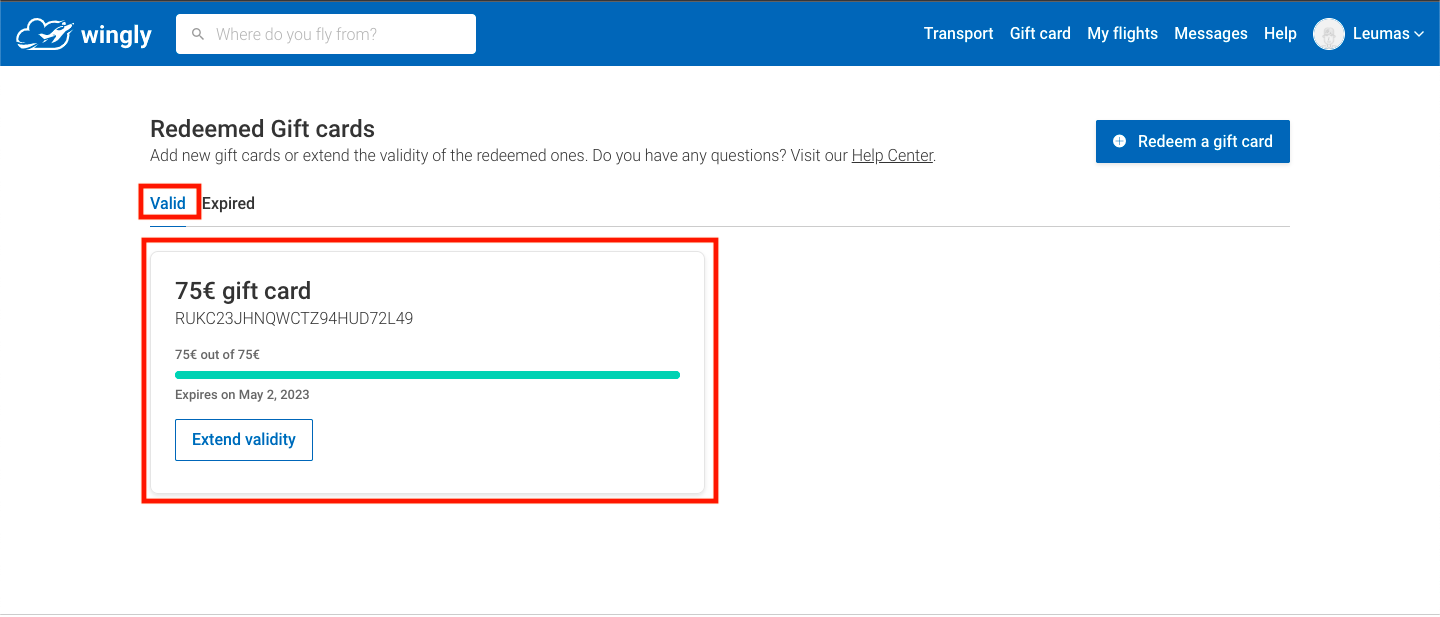 - Extend you gift card, if it is still in validity (A)
- Check the remaining credit on the gift card (B)
- Redeem other gift cards (C)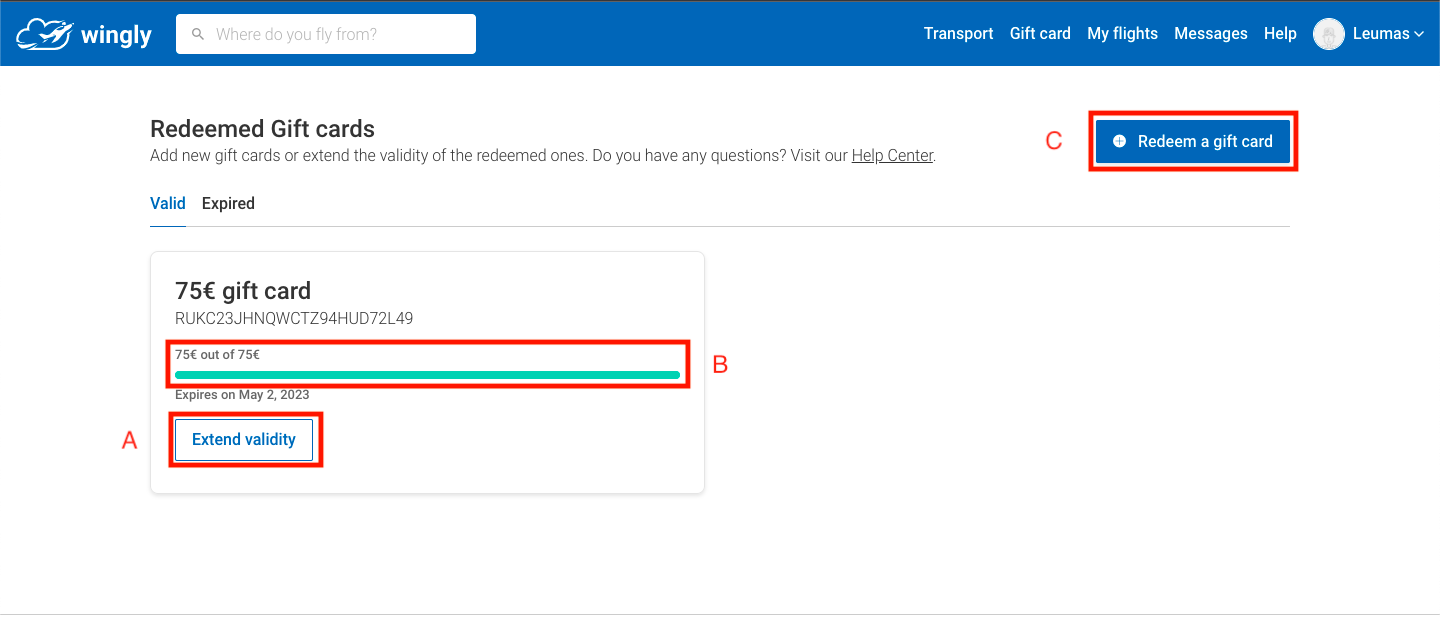 I
If you would like any further information or if you have any questions, please feel free to contact us directly at
hello@wingly.io
or by phone at +44 7782 358860 . We will be happy to assist you from Monday to Friday 8.30 am to 5.30 pm.
Popular Articles

COVID-19 Pilots: Flying activity in the safest way.

A notice to pilots December 2021 Update: The GA guidance page on gov.uk has been updated to clarify the latest position, as well as the general travel guidance page. We are happy to announce that as per the UK Government guidance, General Aviation ...

How can I get in touch directly with the pilot?

While it's not required to send a pilot a message prior to booking, we always recommend doing so as it increases the chances of your booking being accepted by the pilot, so your unique flight experience can go ahead! It is also a great chance to tell ...

What costs can I share as a pilot?

Flight sharing is fully legal in the European Union according to the European Regulation (EU) No 965/2012 and it has been confirmed by the EASA itself in a letter to Wingly. Private pilots are allowed to share their flights and costs with passengers ...

How do I book and pay for a flight?

It's simple and straightforward to make a booking on Wingly: *You can also make multiple booking requests, which will allow you to increase your chances to book a flight. Please click here to learn how to do Multiple Bookings 1. Select the flight you ...
Related Articles

How can I check the expiry date of my Gift Card?

​Gift cards bought from the Wingly website (normal gift cards or gift this flight's) have a 1 year validity starting from the date they are purchased If you are the purchaser, or the receiver, you can easily check the expiration date of your gift ...

Can premium Gift Cards be sent directly to the recipient?

When purchasing a Wingly Gift Card, you can choose to send it to yourself or to someone else ​ To purchase a "Premium Gift card, please follow the following steps: 1. Click on the "Gift card" section of the Wingly website. 2. Select the gift card you ...

How can I redeem my gift card ?

Once you have received the voucher code that was sent to you or that was given to you either by email or mail please follow these steps to redeem: Click on the "Redeemed gift cards" section. In the "Redeemed gift cards" section, click on "Redeem my ...

How can I extend my Wingly Gift card ?

It may well be that time has flown by and you have not yet been able to use your Wingly gift card yet. No worries! All gift cards purchased from Wingly can be extended for 1 year, when requested in the validity period. If you are the purchaser, or ...

How can I send a gift card to someone else?

Gift cards can be easily bought and sent to another person easily during the purchase process. 1. Click on the "Gift Card" section of the Wingly page, or select the flight page that you would like to buy the gift card for, and click " Gift this ...