If you find that you've had a passenger make a booking for a date you're not able to fly, we strongly encourage you to reschedule the booking request by suggesting an alternative date for the passenger to consider accepting, instead of declining the flight straight away. Passengers on Wingly will provide up to 5 alternative dates that they might be available so you will be able to select any of these dates or send them your own date for them to accept.
Your Next Step - Rescheduling

1. In the "Cockpit" tab, select "Flight management" and then click on a pending booking request. You can then view the details of your booking, including these three option buttons.
If you cannot accept the booking for the requested date,
you can click to suggest another date to the passenger, by clicking on "Suggest another date".

In case the passenger has selected multiple pilots during their booking request you will be notified via email as well as on the booking request. You are still able to offer passengers an alternative date. As always if another pilot accepts the booking request based on the original request, the booking will be automatically cancelled on your flight management.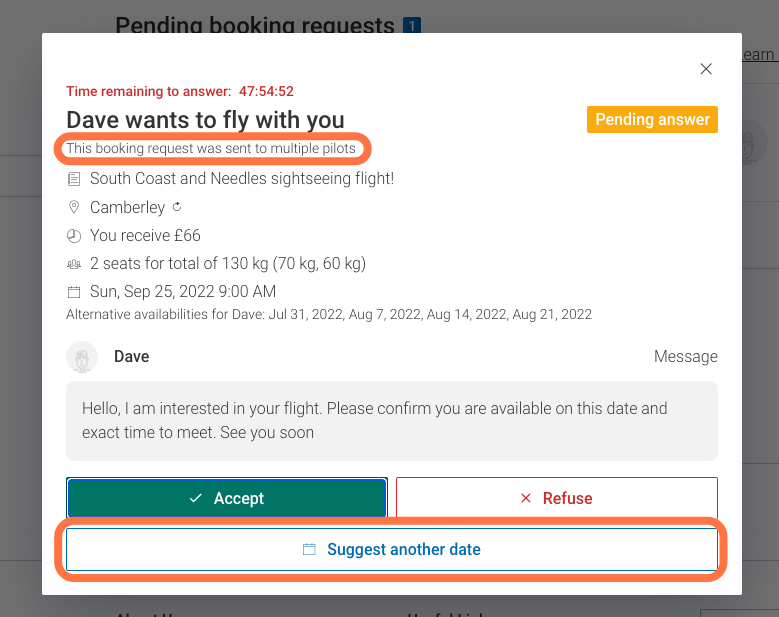 2. When a passenger makes a request, they will normally provide 5 alternative dates that they may be available. You will have the choice between an additional date provided by the passenger or any other date you might be available to fly.
3. Once you have chosen the date, and the times. You will be taken to this page where you select the reason for rescheduling and Wingly will auto-fill template message to the passenger. You are always welcome to update this message.

4. Click 'Suggest this date' and this will be sent to the passenger, for them to make payment and confirm their booking with you.

5. Once accepted your passenger will have 24 hours to make payment for the request in order to confirm the booking on their end. You will be able to follow this on your dashboard as it will appear as waiting for payment.



If the passenger has made a booking request with multiple pilots, another pilot who is able to approve the booking request for the original requested date will take preference and the booking will be automatically cancelled on your end.
6. Once payment has been made by the passenger their booking will now automatically appear in your booked flight list on the new rescheduled date.

7. You will now have access to the full details of the passenger as well as their weights to prepare for the flight. You will also see what you receive when these passengers fly in terms of costs. As you have the passenger's full details you can now also contact them directly to organise any additional flight details.


Once a booking request is confirmed you are always able to reschedule the dates later on if ever needed such as weather postponements, you can also always cancel the flight as well and the passengers will be simply refunded.

If you choose 'Aircraft availability' as the reason to reschedule, please state whether it is simply that the aircraft is booked on that day or whether the aircraft is under maintenance. If the aircraft is out of service, or you are unable to fly for a prolonged period for any other reason, you may need to
update your calendar.
This will prevent further bookings from coming in on days you are unavailable.

If you have any questions, you can contact us directly at
tower@wingly.io
or by phone on +447708405306. We are available from Monday to Friday from 8:30 to 17:30.