How do I search for a flight?
When you visit our website, you will first see our homepage. Where it says 'Where do you fly from?', type your hometown/location you wish to fly from (e.g. London), and select the location from the drop-down menu which will appear.





Once you have searched a location, you will be presented with a list of all the flights offered by pilots in both close-by and surrounding airfields. From here, it is possible to filter your search to find more specific flights.




There are a number of ways you can filter flights:




By type:


Sightseeing - local flights, usually lasting between 1-2 hours, departing from and returning to the same airfield.

Excursion - usually a day trip or weekend trip, departing from and returning to the same airfield after a stop-off in a destination of interest.

One-way - travel from one point to another, departing from one airfield and landing at a different airfield.




By number of passengers:


Most of our flights are for between 1-3 passengers, however, some of our bigger aircraft and helicopter flights can take up to 5 passengers.




By date:
Little tip!

The more flexible you are, the better! Flights in light aircraft are very sensitive to weather conditions, so can sometimes be subject to rearrangement if the weather is adverse.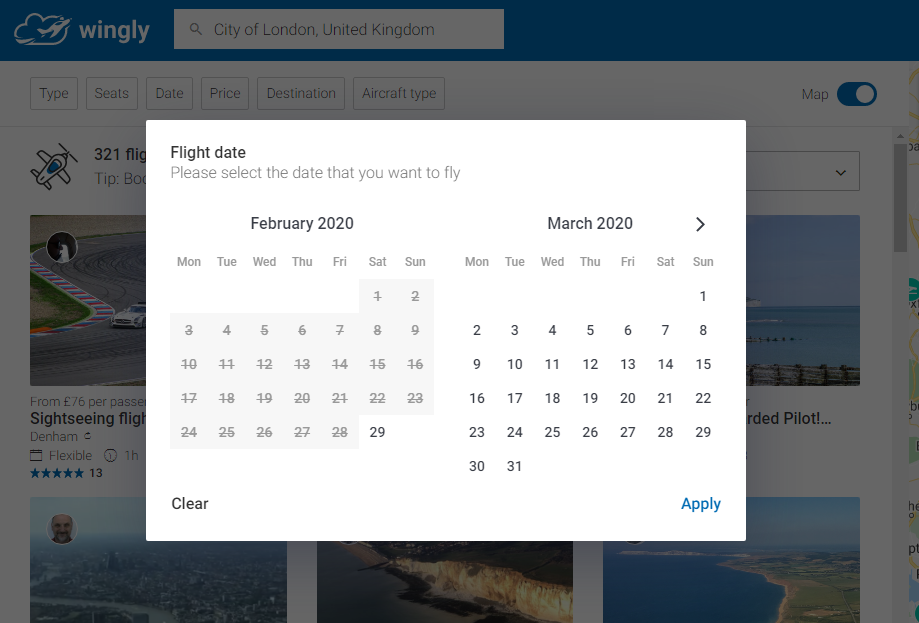 By price

Use the slider to set a minimum and maximum price for your flight experience. Prices vary depending on the type of aircraft and length of the route.


This is the fun part! Scroll to explore all the amazing places you can discover and see from above when flying from airfields near you.
By
aircraft:
Aeroplane - can seat between 1-4 passengers




Helicopter - can seat up to 5 passengers, and are authorised to fly over controlled airspace such as London, or mountain ranges in the Alps



You can also organise the results to see flights which are more relevant to you. Sort results by:


- Best match




- Distance from the airfield




- Price

(low to high or high to low)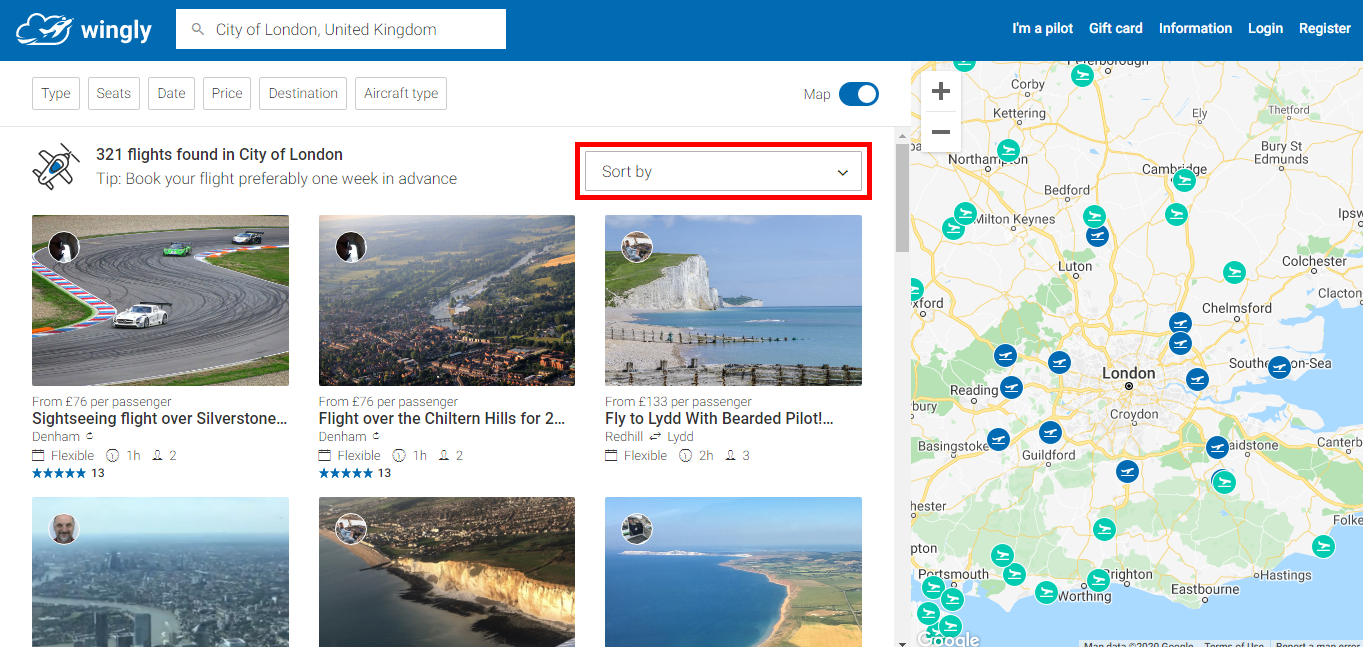 Finally, to make things easier, you can use the map to navigate and visually see where all our airfields are located, as well as where our pilots are flying to.
Locations in
dark blue
are airfields that you can
take off from
.
Locations in
green
are destinations you can visit, either for a sightseeing flight or excursion.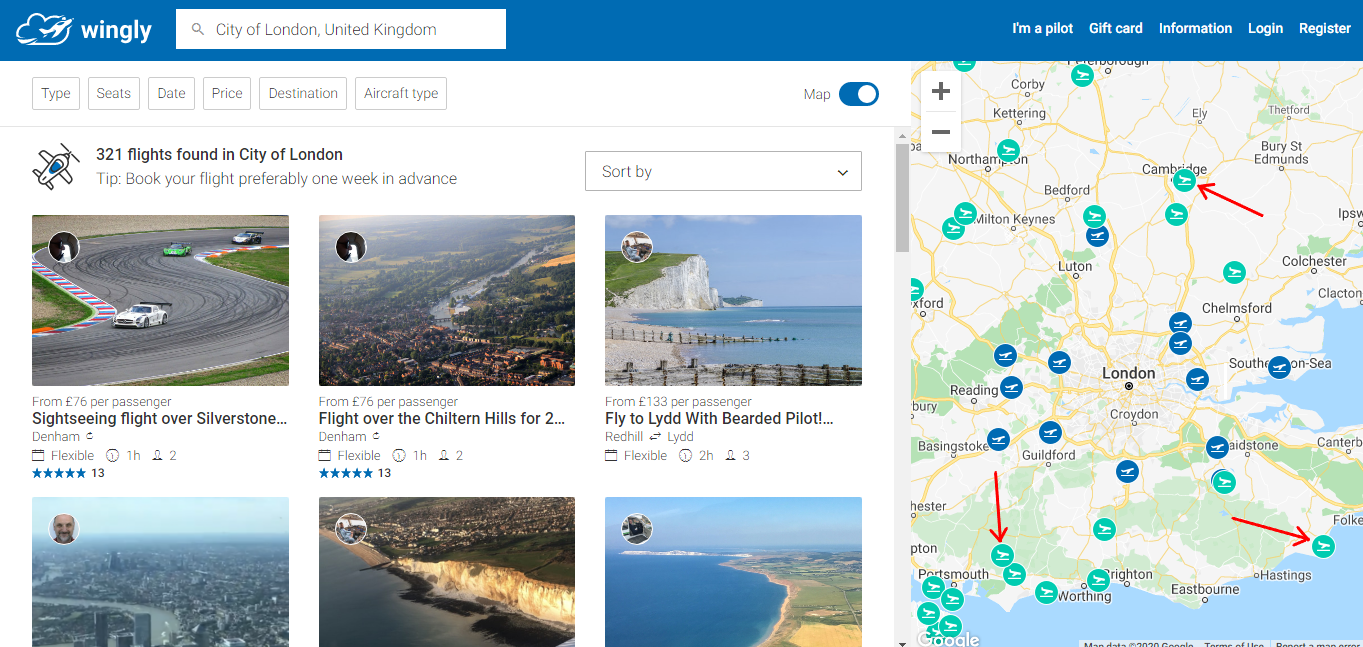 Once you have found the flight of your dreams, it's time to book it! Take a look at our Helpdesk articl

e "

How do I book and pay for a flight?

" for more information
Wingly is not an airline but a platform for connecting private pilots offering vacant seats with passengers curious to discover the Earth from the sky so that they can share the cost of the flight together. Wingly's main ambition is to allow as many people as possible to discover the joys of light aviation. However, the latter is subject to many constraints such as the weather, the availability of the aircraft or the mechanical training of the aircraft. Constraints that can lead to postponements or cancellations of flights.
If you would like any further information or if you have any questions, please feel free to contact us directly at
hello@wingly.io
or by phone at +44 7782 358860 . We will be happy to assist you from Monday to Friday 8.30 am to 5.30 pm.
Popular Articles

COVID-19 Pilots: Flying activity in the safest way.

A notice to pilots December 2021 Update: The GA guidance page on gov.uk has been updated to clarify the latest position, as well as the general travel guidance page. We are happy to announce that as per the UK Government guidance, General Aviation ...

How can I get in touch directly with the pilot?

While it's not required to send a pilot a message prior to booking, we always recommend doing so as it increases the chances of your booking being accepted by the pilot, so your unique flight experience can go ahead! It is also a great chance to tell ...

What costs can I share as a pilot?

Flight sharing is fully legal in the European Union according to the European Regulation (EU) No 965/2012 and it has been confirmed by the EASA itself in a letter to Wingly. Private pilots are allowed to share their flights and costs with passengers ...

How do I book and pay for a flight?

It's simple and straightforward to make a booking on Wingly: *You can also make multiple booking requests, which will allow you to increase your chances to book a flight. Please click here to learn how to do Multiple Bookings 1. Select the flight you ...
Related Articles

Can you help me find a flight?

The most common flights on Wingly are sightseeing flights over the local area and day-trips to locations across the UK, or slightly further afield, for example, the north coast of France. As flights are in light aircraft, trips to destinations ...

I have been gifted a specific flight, can I apply this voucher to a different flight?

This is sometimes the case if you're unable to book the flight you've been gifted due to extenuating circumstances or alternatively, you find a flight you prefer and feel would be better suited for you, you're welcome to use your voucher code on ...

About Wingly and flight sharing

What is the concept of Wingly? Wingly is the first flight-sharing platform in Europe. Through our digital platform, we connect private pilots, offering vacant seats to passengers curious to discover Earth from above so that they can share the costs ...

How do flight requests work for a passenger?

Can't find the flight you're looking for? Flight request is a new Wingly feature which boosts the possibilities for passengers to connect even further with pilots. In the event that you cannot find the flight you desire, you as a passenger are now ...

My flight did not take place, what should I do?

If the pilot has told you that the flight will not take place via the messaging feature, by text or over the phone, please check that the pilot has also cancelled the flight on the website. In this case, you receive an email informing you of the ...