My payout hasn't arrived, what should I do?

It can take up to one working week for the payout to arrive in your account from when you mark a flight as completed.
If the payout hasn't arrived into your account, the most likely reason is that the flight needs to be marked as having taken place. You should get an email in the hours after a flight was due to happen to prompt you to confirm the flight took place. But if not here is how to do it from our website:

1. Go to Cockpit and then Flight Management.

2. You should see your recent flight listed with the marker: "Request payout". Click on the flight.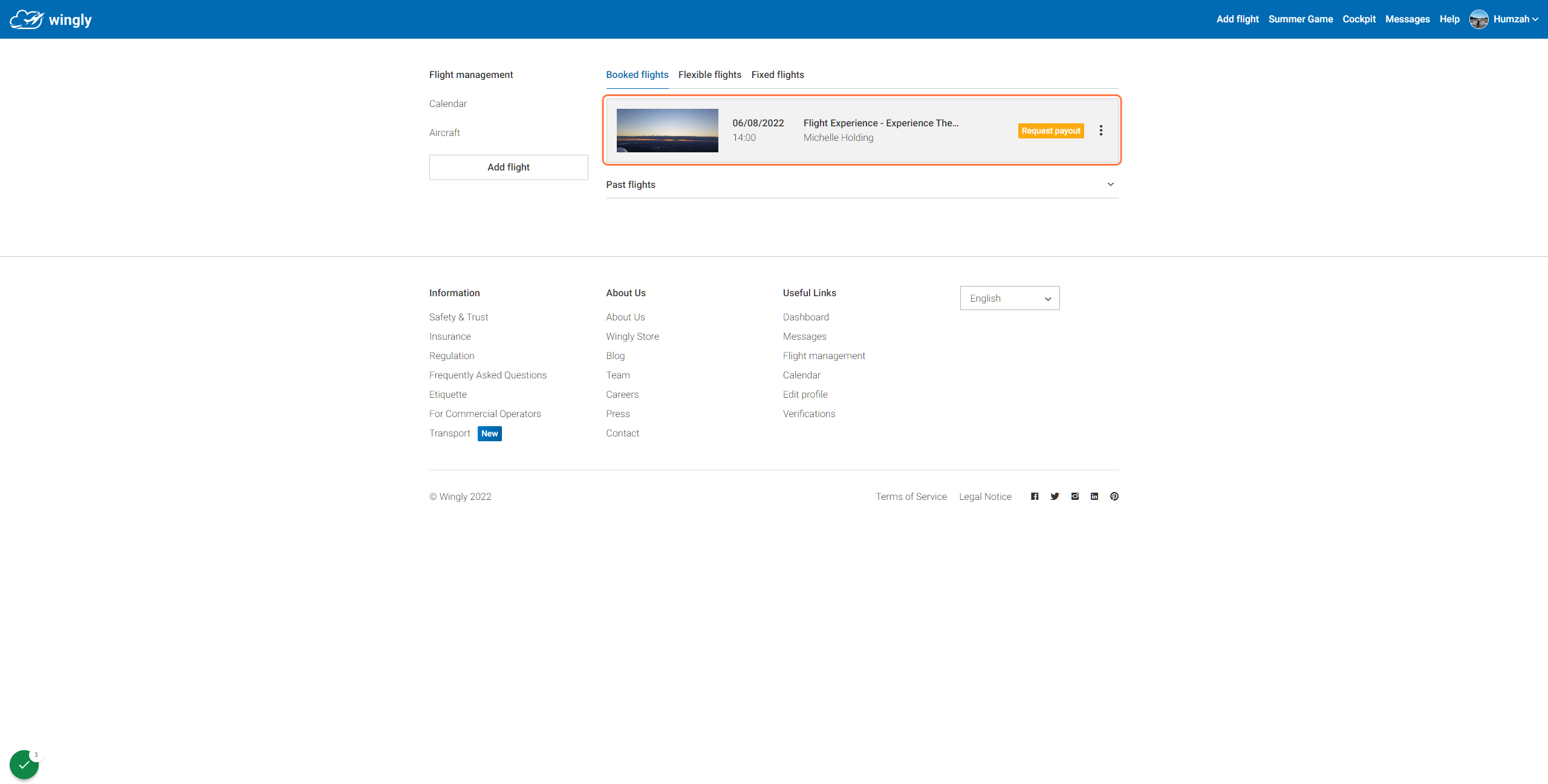 3. You can now click the appropriate button. To request the payout, mark the flight as happened. (You can also reschedule or cancel the flight if it did not take place)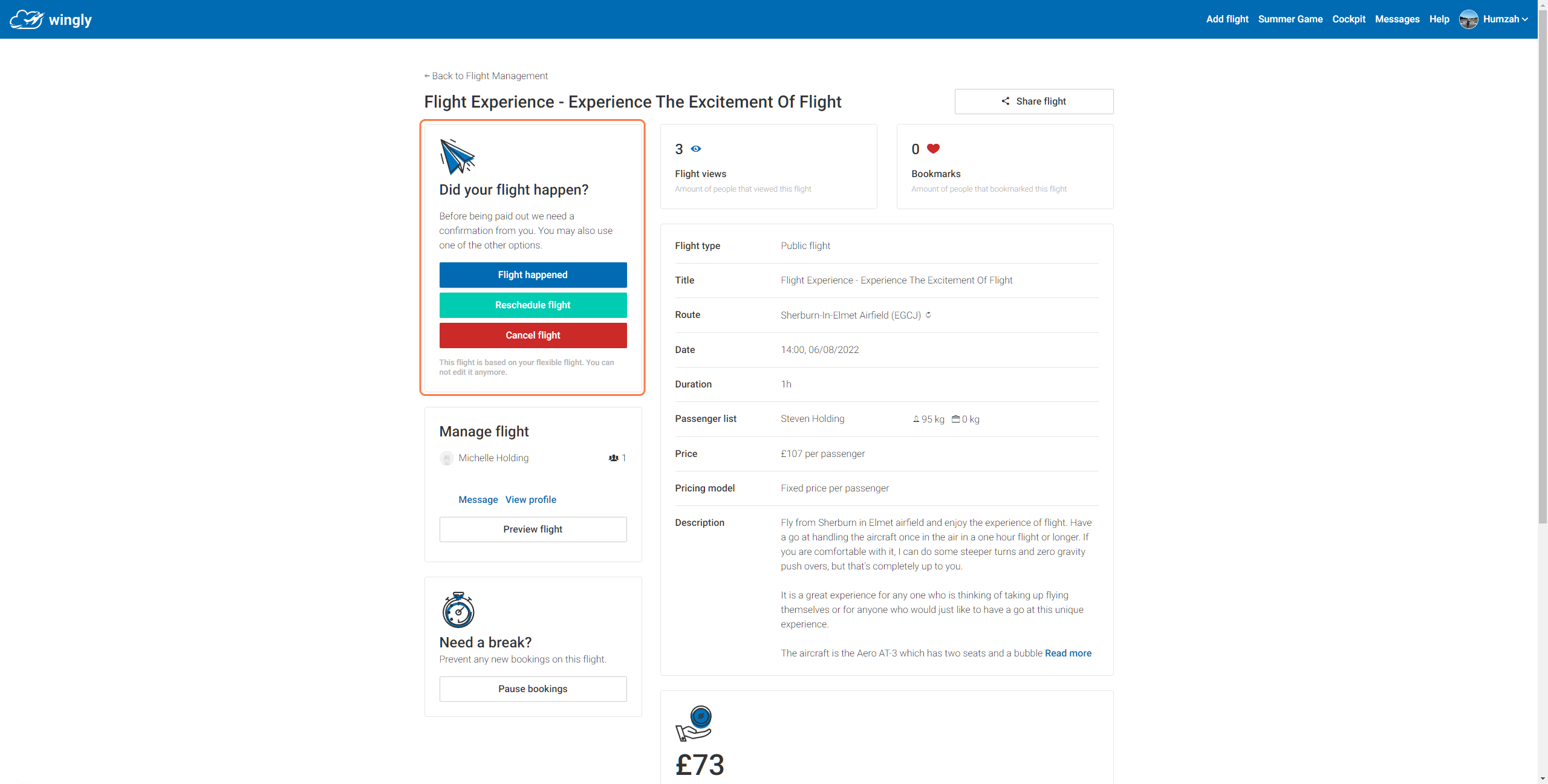 4. It will now take around 48 hours for our payment provider to start the process after which it should be in your account within two to three working days. So please allow around 5 days in total for the money to arrive in your account


If you do not mark the flight as happened, the payment process will not start.

5. You are able to see your payout history by clicking Cockpit and then Payout History. Here you can see the date of flight, the date the wire transfer was started and other details.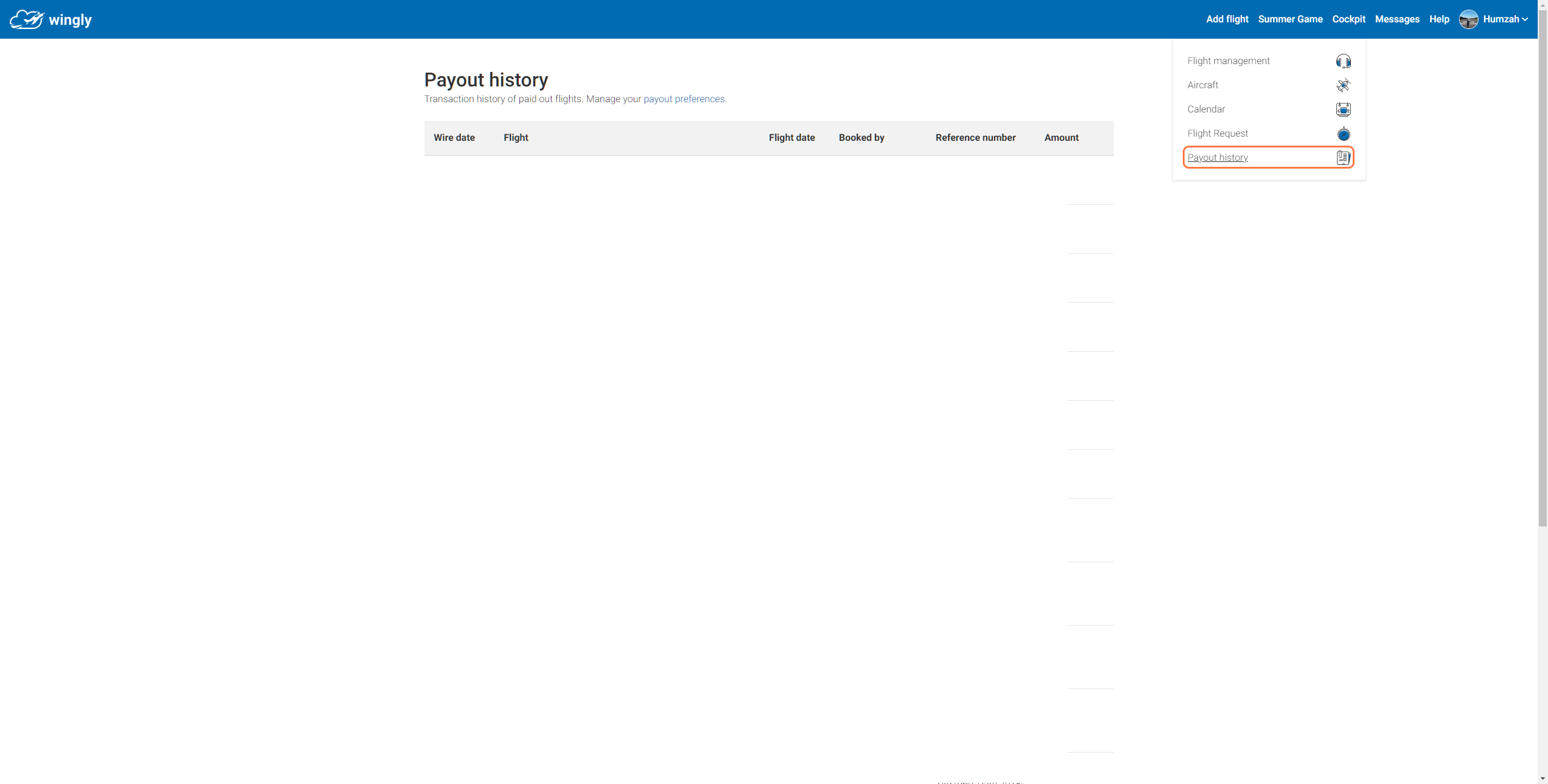 If you have already marked the flight as happened and after 5 working days you still haven't received payment to your account, please contact us directly at
tower@wingly.io
or by phone on +447708405306. We are available from Monday to Friday from 9:30 to 17:30.
Popular Articles

COVID-19 Pilots: Flying activity in the safest way.

A notice to pilots December 2021 Update: The GA guidance page on gov.uk has been updated to clarify the latest position, as well as the general travel guidance page. We are happy to announce that as per the UK Government guidance, General Aviation ...

How can I get in touch directly with the pilot?

While it's not required to send a pilot a message prior to booking, we always recommend doing so as it increases the chances of your booking being accepted by the pilot, so your unique flight experience can go ahead! It is also a great chance to tell ...

What costs can I share as a pilot?

Flight sharing is fully legal in the European Union according to the European Regulation (EU) No 965/2012 and it has been confirmed by the EASA itself in a letter to Wingly. Private pilots are allowed to share their flights and costs with passengers ...

How do I book and pay for a flight?

It's simple and straightforward to make a booking on Wingly: *You can also make multiple booking requests, which will allow you to increase your chances to book a flight. Please click here to learn how to do Multiple Bookings 1. Select the flight you ...
Related Articles

How do I request my payout after a flight?

In the following hours after a flight was due to take place, you should receive an email/SMS asking you if the flight took place. To start the payout process, mark the flight as happened. Please note that it can take up to 5 days from after having ...

How do I add or change my bank details to receive payment for my passengers share of costs?

To receive payment after a flight, you need to add your bank details you want the payment to arrive into(account holder name. account number, sort code) to your account. 1. Click on your name and then go to the settings page. 2. Click "payout ...

What if the flight was shorter than estimated?

If your flight is shorter than you estimated when creating the flight on the Wingly platform there are two options you can choose from, a partial refund to the passenger or extending your flight time to match the arranged booking. If the difference ...

My flight had to be diverted or I only partially completed the flight. What should I do?

If your flight was incomplete due to diversion or partial completion, do not mark the flight as complete on your flight management page Passengers are aware that standard Wingly flights are non commercial and the flight is not guaranteed to happen or ...

How do I receive the 'Wingly Verified' badge?

When searching for flights, our passengers look for the 'verification tick' on a prospective pilot's profile. This tick marks the fact that all of your information is up to date and has been verified by our team, building trust and transparency on ...