What types of licences and medicals do you accept?
With LAPL, PPL, CPL or ATPL (A&H) licences, flight sharing is an activity that allows private pilots to share their direct costs of a flight without profit with passengers.

Therefore if you hold one of these licenses, a valid class 2 medical certificate (or LAPL medical if applicable) and three take-offs and landings in the last three months you can become a Wingly pilot and share your flights on our platform.

A pilot can carry out their flights with Wingly with a valid license and ratings. Therefore, pilots with an instrument flight rating (IR) can fly in IFR. The same goes for night, mountain, aerobatics, twin-engine, monoturbine…


N.B : Pilots with a CPL or ATPL license are also able to share the costs of private flights.

Licences and medicals must be submitted in the following format, with your name and the expiry dates clearly visible.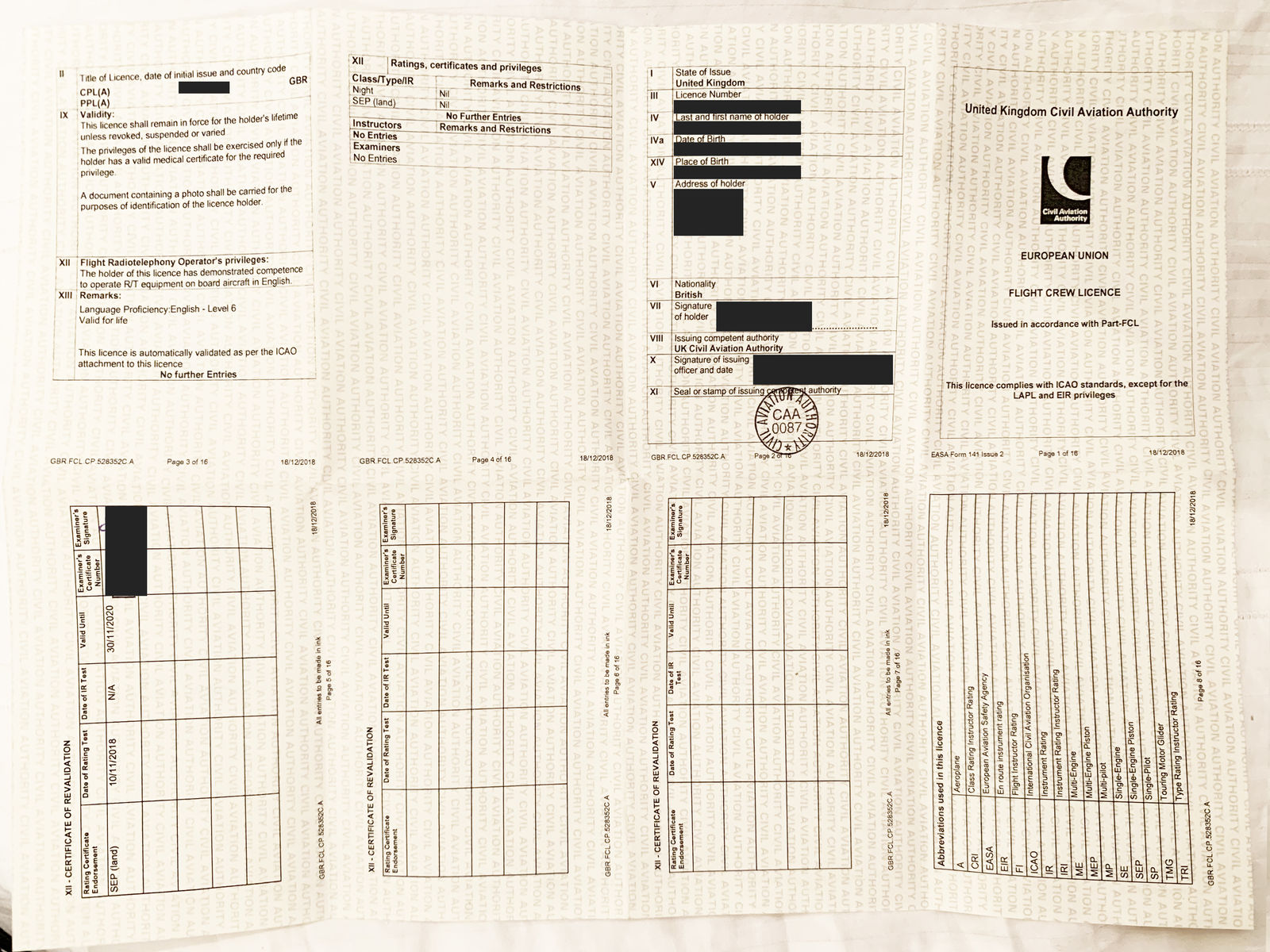 If you have any questions, you can contact us directly at
tower@wingly.io
or by phone on +447708405306. We are available from Monday to Friday from 8:30 to 17:30.
Popular Articles

COVID-19 Pilots: Flying activity in the safest way.

A notice to pilots December 2021 Update: The GA guidance page on gov.uk has been updated to clarify the latest position, as well as the general travel guidance page. We are happy to announce that as per the UK Government guidance, General Aviation ...

How can I get in touch directly with the pilot?

While it's not required to send a pilot a message prior to booking, we always recommend doing so as it increases the chances of your booking being accepted by the pilot, so your unique flight experience can go ahead! It is also a great chance to tell ...

How do I book and pay for a flight?

If you have arranged a time and date with the pilot already*, you will still need to make a booking through the website so the pilot can confirm the flight and to ensure you are covered by the Wingly insurance. To make your booking, follow these ...

How long is the delivery time of the premium gift card?

If you select the 'Premium Gift Card' option, you will receive the digital version of your voucher immediately via email and a printed version will arrive via post in 3 - 5 working days. Vouchers ordered before 5:00 pm are usually dispatched the same ...
Related Articles

How do I accept a passenger's booking request on one of my flights?

After a passenger has made a booking on a specific flight you offer, you simply have to accept it and therefore secure the payment. Once a booking request is placed, you will receive a notification from us via email and SMS. Please be aware that ...

What types of flights can a pilot do and where can they fly?

Pilots are free to post local flights, landaways and one-way flights - the only restriction to this being that CFI-approved pilots with under 100 hours are only allowed to post local flights. If you have any questions, you can contact us directly ...

How do I receive the 'Wingly Verified' badge?

When searching for flights, our passengers look for the 'verification tick' on a prospective pilot's profile. This tick marks the fact that all of your information is up to date and has been verified by our team, building trust and transparency on ...

How does Wingly ensure flying within the confines of the CAA regulations?

As is outlined on the Wingly website, cost shared flights operated by private individuals fall under the European Regulation (EU) No 379/2014 of 7th April 2014, amending Commission Regulation (EU) No 965/2012. Flights can be legally cost-shared by ...

What if a passenger offers to give me extra money on the day?

Do not accept any additional compensation from passengers and it is very important to adhere to this rule. Aviation regulations prohibit pilots from accepting any extra compensation from passengers. Wingly has created a system whereby costs are split ...